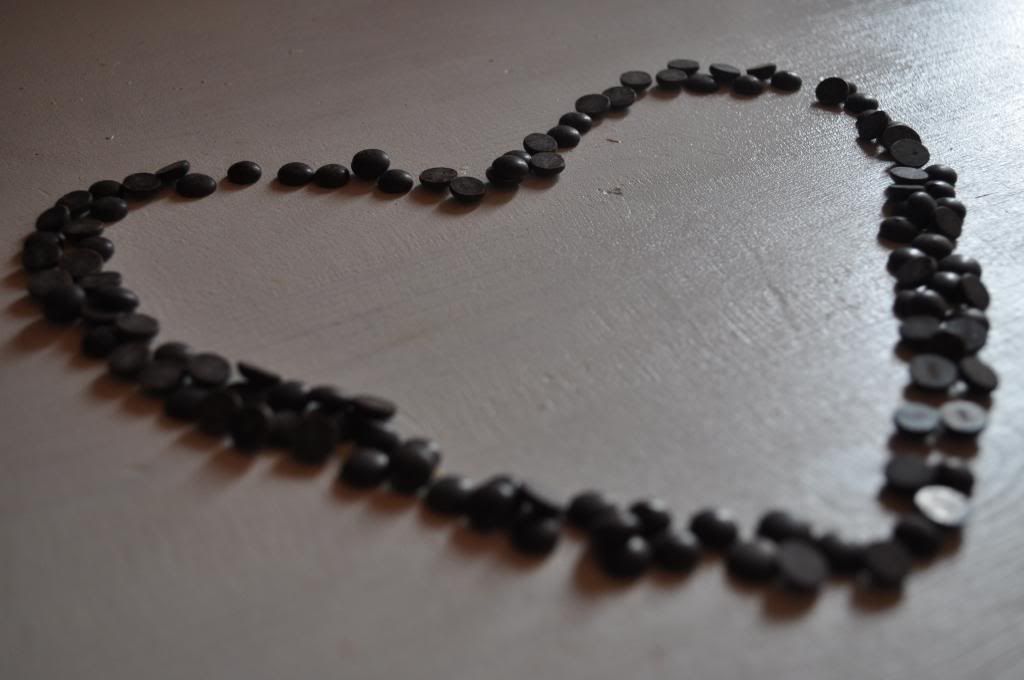 Pünktlich zum Wochenbeginn
melde ich mich mit etwas ganz erfreulichem wieder: Triple Chocolate Muffins - wer kann bei Schokolade denn überhaupt widerstehen.
Eine meiner lieben Kolleginnen fragte mich zur Erheiterung der aktuellen Arbeitslage, ob ich nicht ein wenig seelische Unterstützung backen könnte. Als ich sagte klar kein Problem, was stellst du dir denn vor? Meinte sie nur: Schokomuffins...und fügte mit breitem Grinsen hinzu aber Triple muss es schon sein!
Alles kein Thema also gibt es heute Schokomuffins mit Schokochips und Schokoglasur (das Schokofrosting war mir ein wenig zu süß und hätte wohl auch zu einem Transportproblem geführt - plus Männer in Businessanzügen in der Bahn stehen glaube ich nicht so auf Cupcakefrosting an ihren Anzügen...)
Just in time for the beginning of the week I am back with something that cheers every women up: triple chocolate muffins - who can resist?
One of my beloved colleagues asked me to cheer up our work by baking some soul food. No problem I said, what do you think is best? She just answered: chocolate muffins...and added with a huge grin on her face but triple is a must!
No problem for me so todays recipe is all about choco: chocolate dough, chocolate chips and choco topping ( I though leaving the chocolate frosting this time is the best decision, otherwise I really had some transportation problem - plus I feel like men in business dress don't really like cupcake frosting on their suits)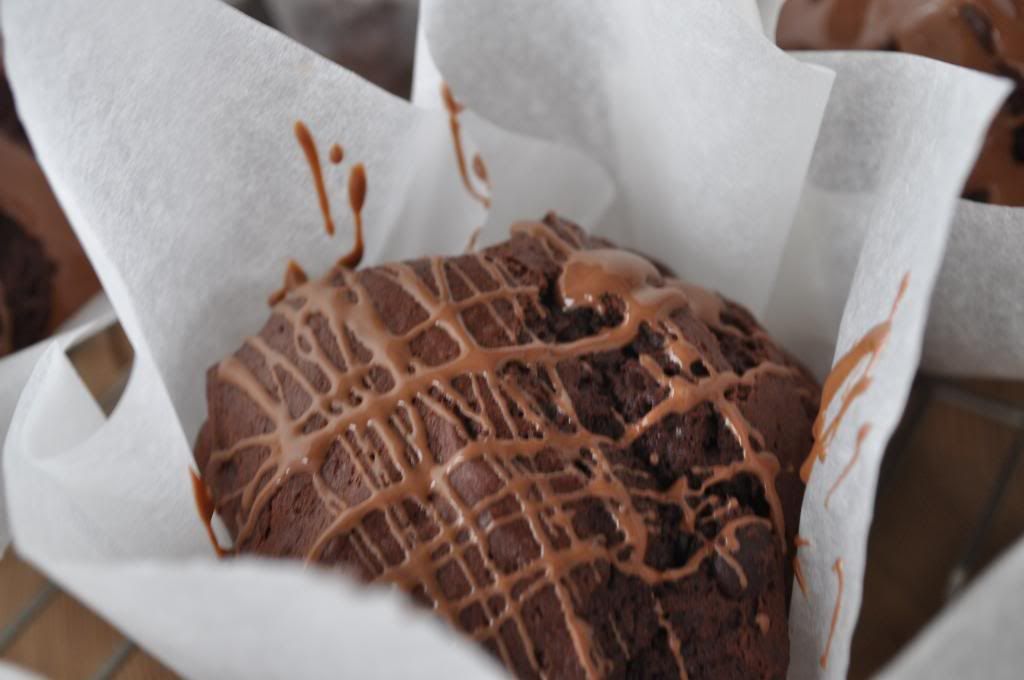 Zutaten / Ingredients:
4 Eier / eggs
240 gr Mehl / flour
120 gr Zucker / sugar
120 gr weiche Butter / soft butter
3 TL Kakaopulver / cocoa powder
100 gr chocolate chips
Topping:
50 gr Kuvertüre / chocolate coating
Alle Zutaten zu einem glatten Teig verrühren, Ofen auf 180°C vorheizen, nun den Teig in die Muffinformen füllen (wer keine Papierförmchen benutzen mag sollte die Form einfetten - aber ist ja eh klar). Dann das ganze für 25 Minuten in den Ofen.
Dann mit einem Schaschlikspieß testen ob sie fertig gebacken sind, bleibt noch Teig am Stäbchen kleben warte noch ein wenig, wenn nicht Muffins aus dem Ofen nehmen und abkühlen lassen währenddessen die Kuvertüre im Wasserbad schmelzen. Teelöffel oder Kuchengabel in die flüssige Kuvertüre eintauchen und im gewünschten Muster über die Muffins ziehen.
Mix all ingredients until you get a smooth dough, preheat the oven to 180°C, now get your muffin dough in the tray (for those who don't want to use paper forms, you bette use some butter in the tray). Now put the muffins in the oven for about 25 minutes.
Before taking them out test if they are fully baked with a wood spit, when dough is sticking to it wait some more minutes, otherwise get your muffins out and let them cool down. melt the chocolate coating in a water bath, dip a small spoon or fork in the melted chocolate and take them over the muffins.
enjoy everyone!